Recognising that this should be a People's Agenda, we will work to familiarize the public with sustainable development and the commitments made by governments, with an aim to promote people-powered accountability and support the mobilisation of people. We will organise solidarity actions with people working for sustainable development and cooperate with others to build a people's movement. Action for Sustainable Development focuses its public mobilisation moments around the High Level Political Forum, SDG Anniversaries (sept & january) and Climate Change Negotiations (COPs).
Upcoming activities:
2 year anniversary since adoption of the Sustainable Development Goals
On 25 September, Action for Sustainable Development will join a global alliance of civil society groups to organise hundreds of public mobilisation events around the world. Together, we will take actions to raise awareness for the goals and speak up for civil society´s fundamental role in delivering the agenda. We the People - take Action for SDGs! Is the slogan for the two year anniversary. We would love to work with you on 25 September to organise community marches, town halls meetings, photo stunts and online actions. Join an event near you or take action online. Register your actions
here
. Toolkit available
here
. Additional activities are also being planned between 22-24 September, as part of the
SPEAK! campaign
, which is organising in-person events in over 80 countries. Live conversation on social media at
#Act4SDGs #TogetherWeSpeak @Action4SD
.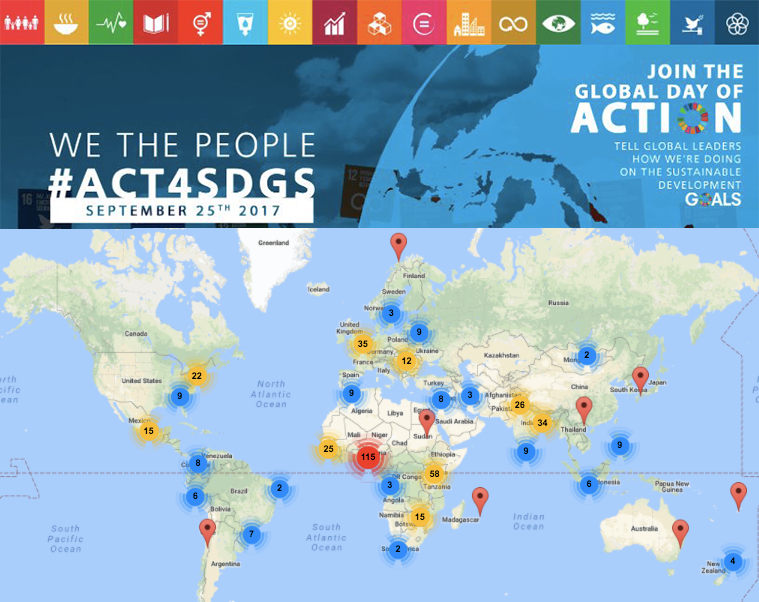 Viewing topic 1 (of 1 total)
Viewing topic 1 (of 1 total)
The forum 'Public Mobilisation' is closed to new topics and replies.